LED
De volgende  info over LED is gebaseerd op Ezzatbaroudi's Weblog en www. ledsky.be
INTRO
LED Technologie is niet nieuw.  Deze technologie bestaat al meer dan 50 jaar! (De eerste LED uit 1962 was een rode LED).
Wat wel nieuw is, is de recente ontwikkeling waarbij men vanuit een blauwe LED, wit licht heeft kunnen maken met een steeds betere lichtopbrengst en -kwaliteit. Deze LED (re)volutie gaat onverminderd voort.
LED TYPES
1. DIP LED (Dual In-Line Package LED) = Low Power LED

De typische LED zoals we deze kennen, is een zeer kleine LED in een cylindrische lens die beschermt tegen invloeden van buitenaf en zorgt voor specifieke optische eigenschappen. De configuratie van de standaard LED heeft beperkingen op vlak van vermogen en er zijn dan ook meerdere LED's nodig om een goede lichtbundel te creëren. Standaard LED's worden ook wel DIP (Duel In-Line Package) of Low Power LEDs genoemd.
Dit waren de eerste LED's en worden nog steeds gebruikt als indicatieLED's of bvb in verkeerlichten.
Er zijn een aantal LED lichtbronnen op de markt die gebruik maken van deze technologie. Het is af te raden deze te gaan gebruiken ter vervanging van traditionele lichtbronnen.  De lumen output (hoeveelheid uitgestraald licht) is te laag om van een efficiënte lichttbron te kunnen spreken en bovendien laat de lichtkleur te wensen over.
2. SMD LED (Surface Mounted Device)

De SMD LED's zijn direct gesoldeerd op de elektronische component (PCB) met een speciale techniek. De SMD LED is zeer robuust en heeft een nog langere levensduur dan de standaard LED's. SMD LED's zijn verkrijgbaar in vele soorten en maten. Ze hebben geen lens en dat maakt dat de lichthoek veel groter is, een eigenschap die geprefereerd wordt in sommige applicaties.
SMD LED's worden vaak toegepast in LED strips. (bvb in koof- of kastverlichting).
3. High Power LED
High Power LED's of PowerLEDs zijn zeer krachtige LED's met een typische energieconsumptie van 1 tot 3W per stuk. Deze LED's hebben een zeer goede lichtbundel en worden vaak gebruikt voor applicaties waarbij veel licht nodig is. Een aandachtspunt voor deze LED's is de warmteontwikkeling die de levensduur aanzienlijk kan verminderen. Het gevolg hiervan is dat LED producten met High Power LED's voorzien zijn van koelribben die de warmte kunnen afleiden.
4. COB LED (Chips On Board) 
COB is een technologie die al enige tijd bestaat, maar die nu ook opgang maak in LED verlichting. Vele kleine LED's worden heel dicht bij elkaar gemonteerd en geven zo het effect van een lichtpaneel. Dat resulteert in een homogener licht. De COB LED spot is zeer geschikt voor plaatsen waar veel licht nodig is, maar waar sfeer toch ook belangrijk is. Bovendien combineert deze LED spot de voordelen van LED verlichting met een nog hogere efficiëntie (meer licht en minder verbruik!).
Voor sfeerverlichting en algemene verlichting is COB energiezuiniger maar voor high-end toepassingen maken veel fabrikanten gebruik van meerdere aparte LED's op een printplaat. Op die manier hebben ze meer vrijheid bij het ontwerp van lichtarmaturen.
1 COB LED voor 1 lichtarmatuur
11 high power LED's op een printplaat voor 1 lichtarmatuur
De COB LED zorgt meestal voor een vrij groot armatuur in vergelijking met een armatuur met een printplaat met high power LED's. Bovendien zijn deze lichtbronnen vooral geschikt voor sfeerverlichting en zijn de lichtbundels vrijwel nooit kleiner dan 10°.
Inbouwspot met COB LED (links) in vergelijking met een inbouwspot van ERCO met printplaat en lens (rechts). Deze laatste heeft een zeer smalle en efficiënte lichtbundel:
Een opbouw LED armatuur met Power LED's  (rechts) is doorgaans veel kleiner en eleganter dan een armatuur met COB LED (links):
4. SCOB LED (Stereoscopic Chips On Board) 
SCOB is de laatste nieuwe generatie LED en is een verbetering van de COB-technologie. SCOB's worden direct op het koellichaam gemonteerd zodat wamte sneller afgevoerd kan worden (tot 97% sneller). Er kan meer van de LED's worden gevraagd en stijgt het lumen per watt (tussen 90 à 140 lumen per watt). Een betere koeling betekent ook een langere levensduur van de elektrische componenten in de lamp.
Bovendien zorgt deze positie van de LED's ervoor dat  het licht in alle richtingen schijnt (stereoscopisch).

5. Retrofit voor gloeilamp: COG LED (Chip on Glass) of Filament LED

Retrofit is de algemene benaming voor LED lichtbronnen die traditionele lichtbronnen kunnen vervangen zonder dat er een nieuw armatuur moet worden aangeschaft.
Een COG LED of filament LED lamp heeft unieke LED "gloeidraden" en lijkt sterk op de ouderwetse gloeilampen. Een filament wordt gemaakt van heel kleine LED's die achter elkaar worden geplaatst en bedekt worden met een fosforlaag. Het resultaat is een LED lamp die ook qua werking dicht tegen de gloeilamp aanleunt. Ze stralen heel warmwit licht uit van 2200K – 2700K en passen goed in restaurants, winkels en huizen waar een andere LED lamp uit de toon zou vallen.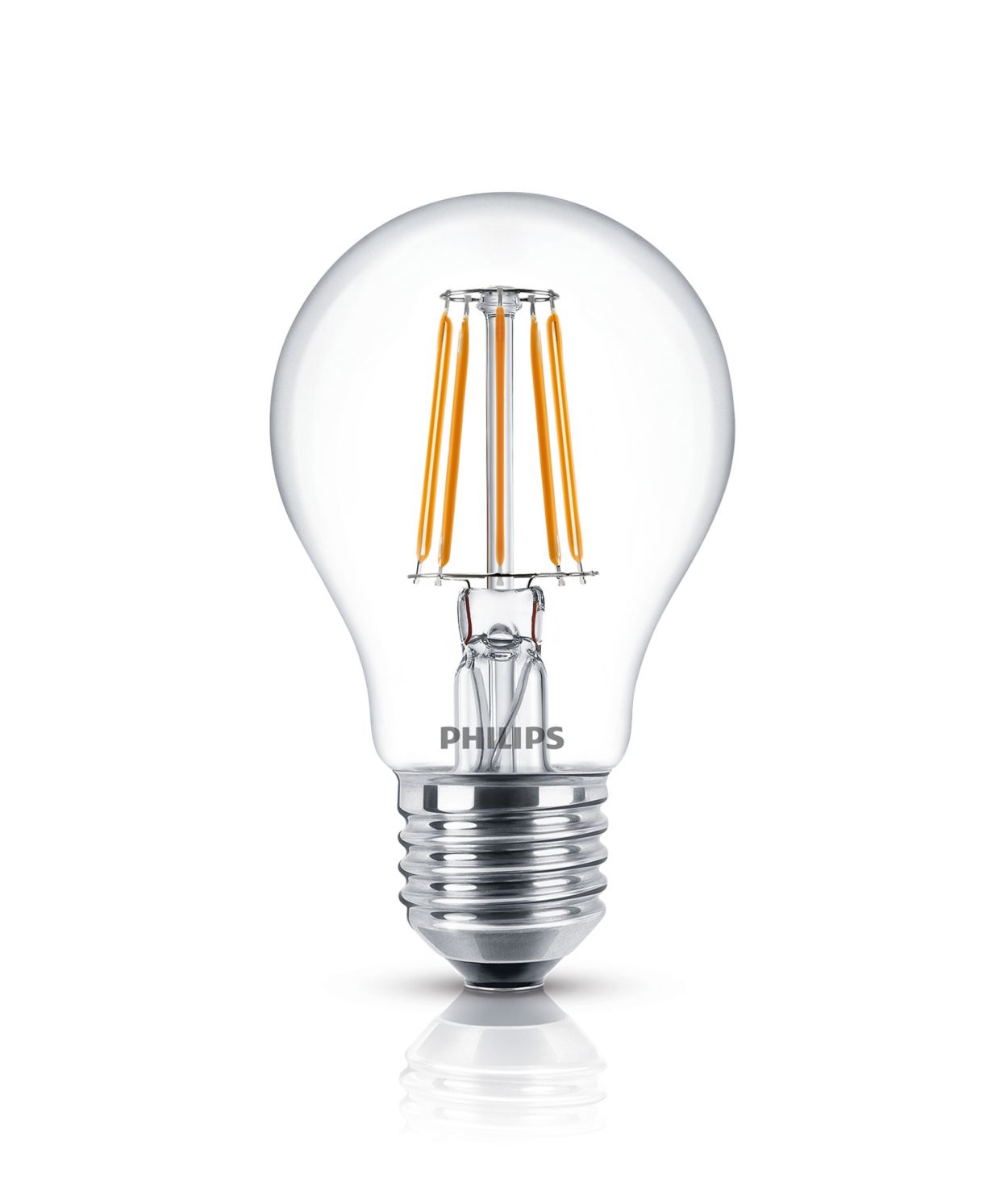 6. Retrofit voor Halogeen lowvoltage

Vervanging van traditionele lichtbronnen door LED retrofit lampen is de gemakkelijkste manier om vooral van het economisch voordeel te genieten. Het verbruik van de LED is namelijk veel lager en de levensduur is veel groter. Een vaak vervangen lichtbron is de halogeen MR16.
Toch moet je opletten met goedkope versies die tegenwoordig vrijwel in elke doe-het-zelf-zaak beschikbaar zijn. Vooral de lichtkwaliteit (kleurtemperatuur, kleurweergave) laat vaak te wensen over. Je gaat best te rade bij verlichtingswinkels.
Een betere kleurweergave heb je bvb bij de SORAA Led. De spectrale samenstelling van deze LED's is zo dat de blauwe kleur in het spectrum verschoven is naar de paarse zone. Dit zorgt voor een betere weergave van witte kleuren. Meer op www.SORAA.com
Bij nieuwe installaties is het dus niet ideaal om voor retrofit te kiezen. Een beter idee is om de gehele lichtinstallatie te voorzien door hoog kwalitatieve LED armaturen met power LED. Zowel de levensduur hiervan is aanzienlijk hoger, net als de efficiëntie.
7. OLED (Organic Light Emitting Diode)

OLED is een grote-vlakkenstraler. Het werkingsprincipe van OLED's is grotendeels gelijk aan dat van de gekende LED's.
Het fundamentele verschil zit hem in het gebruikte halfgeleidermateriaal dat bij OLED's uit koolstofverbindingen bestaat en dus organisch is. Deze organische moleculen kunnen in tegenstelling tot de anorganische halfgeleiders van LED's in microscopisch dunne laagjes op relatief grote oppervlaktes aangebracht worden waardoor vlakke uitgestrekte lichtbronnen mogelijk worden.
OLEDs worden op dit moment reeds gebruikt in beeldschermen van smartphones
OLED is een diffuse lichtbron. Dat wil zeggen dat er geen lampenkappen of andere optische middeltjes nodig zijn om het bruikbaar te maken. Dit biedt designers enorm veel mogelijkheden.
Selecting and Specifying LED
LED characteristics and specification could vary from LED to anther ranging from very poor to excellent characteristics and the most famous LED manufacturers are
1- CREE (USA)
2- NICHIA (Japon),
3- OSRAM (Europe)
4- Philips – Lumileds (Europe)
5- Toyoda Gosei (Japon)
and some other
If you take one of the manufacturer e.g Cree you will find they have made many types more than 100!
each range has its specification and it is changing from year to another but there are general characteristics that help you specify LEDs
LED characteristics
Efficiency -efficacy
Color temperature
CRI and color rendering
SDCM or Macadam ellipse
Spectral Power Distribution SPD
Lumen Maintenance
Failure Rate
Damage Factor
Efficiency
To evaluate how efficient an LED is we use the term efficacy because it is not % it  is lumen/w or amount of light per one watt efficacy is simply how mush lumen per watt (light) per watt an LED can give ,the more lumen means more light for each watt. a typical value for 2016 could be higher than 120 Lumen/watt
Color Temperature
Correlated Color Temperature CCT for LED defines the color of the light and could range from 1800 to 10000 K
the lower the Temperature means warmer color
CRI and color rendering
The color rendering is the ability of a white light to render the color of objects , the higher the color the better to show the objects.
the current method use a number between 0-100 , the higher the number the better the CRI is
a good LED nowadays can easily have 90 CRI
it should be noted that the Current method of 8 color or 14 color CRI is found not sufficient and not an ideal way to describe quality of color and the IES has proposed in 2015  a new method called IES Method for Evaluating Light Source Color Rendition TM-30-15
https://www.ies.org/store/product/ies-method-for-evaluating-light-source-color-rendition-3368.cfm
it is not yet adopted globally be seems to be mush more useful to the old 8 color method of CRI
it has Fidelity Index (Rf) , Gamut Index (Rg) and Garphs to show the color quality of a light source
SDCM or Macadam ellipse
SDCM (Standard Deviation Color Matching) or Macadam Ellipse is very important criteria
during manufacturing of LED  and applying phosphor coating it is very unlikely to get identical color but the color are very close some time you could see the difference between two colors by eyes and some other time is very difficult to see if there is any difference.
the measure that is used is the Macadam Ellipse which Group of color that are seen identical by human eyes even if they are technically different.
when you have SDCM<2 then the difference is not visible to human eye, and since many many manufacturer have this technology then it is very good to spasfiy SDCM<2
but also it should be maintained for long hours and after 50000 should not be more than 3
Spectral Power Distribution SPD
The light has 7 colors that you could see during the rainbow
similarly with any artificial light source it contains different power of colors represented in what is called SPD  (Spectral Power Distribution)
As some manufacture try to improve some color to get better CRI like teh CFL you could get many spikes in some color , the less spikes the more natural the light is
Lumen Maintenance
a life time of LED is very long but what is more reverent and more useful is how is  lumen (light) is maintained by LED after certain time.
the most used method is IES LM80 and TM21 to determine the lumen after 50000Hour
Most LED manufacture mention the LxBy after 50000 and one of the very popular is L70B50 and L80B10
what dose it mean?
L70 after 50000h:
it means that 70% of the initial lumen is maintained
B50:
it means than 50% of the LED will have less lumen than the maintained lumen (Lx)
L70B50 after 50000 h:
it means 50% of the LED are maintaining the 70% of initial lumen after 50000 hours
L80B10 after 50000 h:
it means 90% of the LED are maintaining 80% of the initial lumen and 10% is not after 50000 hours
the higher the L and lower the B is good but make sure these values are given after at least 50000 hours as some manufacturer give better number but only after 25000 hours not 50000 hours!
what dose 50000 hours means in years:
Failure Rate
Lumen maintenance is different than total failure some manufacturer give this as percentage 10% or less for 50000 hours , the lower the number of course is better .
Damage Factor
it simply means how LED could damage sensitive art and this probably only important in museum and gallery where very sensitive art is being exposed to light
LED in general is better that Halogen and HIT but it is very important to ask for the value of damage factor for the LED
good value that was published by ERCO is Damage factor 0.149 mW/lumen which is lower than halogen.
That was specification of LED but what about LED luminaire
An LED luminaire has mush more than LED!
it has
The LED
Heat dissipation system
Control Gear or Driver
Optical System
Other Mechanical system for some protection like IP
How to specify those
Heat dissipation system
The Heat-sink is very important as it helps ruining the LED for its lifetime and ensuring maximum efficiency
There are many types- basically heat sink could be passive or active
The active heat sink uses the fan to cool the LED while the passive heat sink use metal like aluminium to cool the LED.
Active Heat Sink with Fan
Personally i prefer the passive as it is very difficult to get the fan run for more than 50000 hours. also if the fan fails the LED would have shorter life time. however there could be some application where you don't need the 50000h like shops and retail.
Control Gear/LED Driver
LED Driver help supply the LED with the right current.
each Driver has certain capacity in Watt and input as well output
LED runs at different currents depends on manufacturing and heat management, the lower the current usually the more efficient the LED is while the higher the current the more cost effective is.
the most common current to drive LED is
350 mA
500mA
700mA
1000mA
LED Driver has to be selected to match the LED luminaire manufacturer , some manufacturer they supply the complete luminaire with driver some other supply without driver.
to select the right one you should select the right mA, Watt
Type of Drivers
There are many types to control or dim the LED , the most common ones are
1-Switchable Driver
2-Phase Dimmable Driver
3-0-10 Volt Dimmable Driver
4-DALI Dimmable Driver
Switchable LED Driver
They only switch LED on/off
is economical solution but limited in controlling the light
LED Phase Dimmable Driver
this could be controlled by the same way as halogen and incandescent lamps
the disadvantage that not compatible with all dimmer in the market you have to make sure that the dimmer is made to dim LED type.
0-10 Volt Dimmable Driver
This is better in terms of compatibly with LED , it is controlling the driver by 2 wires different than the power line unlike the first option
Advantages:
as the wires diming the LED are different from the Power then no issue with dimming .
could be easily connected with smart system like KNX.
Disadvantage:
has limitation as you have to define the luminaires that will be dimmed together before wiring.
it uses a lot of lines for each group of luminaires, you need separate wire e.g if there is 5 rooms in each rooms there is 3 group of luminaires to be controlled speratlly then you need 15 pairs of wires for the five rooms.
LED DALI Driver
This is the most flexible driver
the DALI (Digital Addressable Light Interface) driver is smart driver that receive and send information through a wire to the controller
Advantages:
one wire can connect 64 driver to the controller  eg if there is 5 rooms in each 3 groups you only need one pair of wire to the controller.
High flexibility since you can decide after installation which luminaire should be dimmed , it could be programmed any time by the installer or technician.
you need only one controller per 64 driver.
excellent for connection with smart system like KNX
Disadvantages
The driver has more cost compered to the other drivers, but with good design the system could be less expensive as it have less wires and controllers, it really depends on the situation.
Method of Dimming LED
there are two types of dimming LED PWM and CCR
PWM Pulse Width Modulation
in PWM the light is reduced by reducing the with of the plus
advantage
the LED color will not be changed
disadvantage
is not suitable for Video conferencing as you could see the light is moving and not stable, Human eye cannot see this frequency but the camera dose
CCR Constant Current Regulation

in this method the light is reduced by reducing the current
disadvantage
the light color could change slightly but it is unlikely  noticeable
advantages
very good for video recording
I would recommend the CCR since nowadays every almost one is recording video at least with mobile phone!
Optical System
the optical system of LED control the light
Optical System For mid power LED
it is mostly diffusers
there are many types of accessories to help hold and control the light of LED SMD
Also there many  types of diffusers e.g clear, Opal
usually the more uniform the light the less light output the diffuser will get
these channel help installing the LED strips inside architectural details like floor or shelfs
the designer should select the right type and ensure proper coordination with architectural details
Optical System For High power LED
mainly lenses or reflector to control the light of High power LED